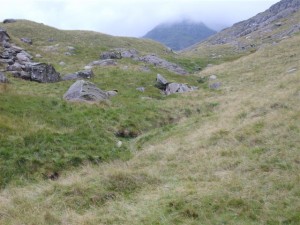 'More enthusiasm than experience', says a Mountain Rescuer following the rescue of four young men yesterday from a scrambling route on Snowdonia.  To guide them up the North Ridge all they had with them was a photocopy of a map and notes from a guide book – which unfortunately didn't last long in the wet weather.  Ink does tend to run….
The Mountain Rescue team said that whilst all routes on Tryfan lead to the summit, in reverse they don't all lead to a safe return to the road.  Having abandoned the ascent the scamblers soon realised they were in a bit of a fix about getting down – it was time to dial 999.
Although the group made some attempt to take a map with them, maps are not a lot of help unless you can tell where you are.  On any walk take a proper map and a compass, and ensure you orient it before you start so you know exactly where you are, and regularly check it as you go along.  It's not much fun sitting waiting for Mountain Rescue in the damp and wet!
The Mountain Rescue team has been kept busy on approaches to the North Ridge recently, with 2 other rescues in two days as scramblers got stuck and could not find their way down.  Rather than becoming lost, one of the pair lost confidence and came to a halt.  Inexperienced or novice walkers should take note that the routes in Snowdonia away from the more common tourist paths are not for the faint hearted!
Interesting about this rescue is that the Ogwen Valley Mountain Rescue Team was using a smartphone app developed by team member Russ Hore.  The walkers did not know where they were, but using the app, called Sarloc, the rescuers sent a text message to the walkers' smartphone.  The text message contains the URL of a website that automatically requests the phone's location.  They were able to find the stricken scramblers and get them safely back down.
One warning - don't rely on your GPS app on your smartphone.  Keeping this in use drains the battery quickly, and you need to safe that battery for if you do get lost, or have an accident.